Heritage Science Laboratory Ljubljana
The research facilities of the Heritage Science Lab Ljubljana consist of experimental laboratory facilities and reference research collections. We are continually developing both in close strategic collaboration with the European Research Infrastructure for Heritage Science – Slovenia (E-RIHS.si), of which our Lab is a founding member.
Below is a list of the main laboratory faclities, organised in meaningful headings, available to our researchers and anyone wishing to collaborate with us. We specialise particularly in environmental monitoring and assessment, as well as characterisation of heritage materials. Our excellence has been recognised through the inclusion of our Heritage Macromolecular Lab in the catalogue of services of the EU H2020 IPERION HS project, through which we offer access to our facilities for research collaboration globally.
Organisationally, some of our facilities are managed as part of the Heritage Science Unit of the Centre for Research Infrastructure, and some are managed as part of the Chair for Analytical Chemistry at the Faculty of Chemistry and Chemical Technology, University of Ljubljana.
The climatic chamber is used for evaluation of material properties changes during exposure to elevated temperature at different humidity levels. It is used to accelerate the effects of exposure to environmental conditions. The conditions should be carefully selected to ensure that the degradation processes remain the same as during natural degradation.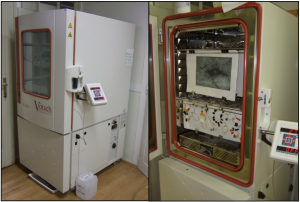 Vötsch VC 0018 climatic chamber
Flow-Through System With Controlled Atmosphere
With this setup, an atmosphere with the desired humidity, temperature and pollutant concentration is produced and maintained inside a reactor, where the materials to be aged are placed. In this way, the effects of various environmental parameters on material degradation can be studied.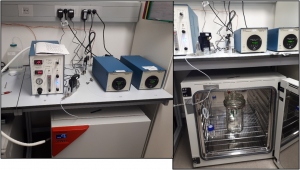 Purpose-made setup, consisting of a humidity generator V-Gen Model 1 (InstruQuest), two pollutant generators Dynacalibrator 150 (Vici) and a heating unit ED 115 (Binder). The flow of compressed air through the system is controlled by mass flow controllers GFC17A (Aalborg) and distributed with PTFE tubing and stainless steel connectors and adapters.
Xenon Weathering Chamber
The SUNTEST CPS+ is used to evaluate changes in the properties of materials caused by sunlight, temperature and humidity in a short period of time. Material changes that occur outdoors or indoors over months or years, such as fading, yellowing or embrittlement, can be simulated in a SUNTEST within weeks. A xenon lamp with a combination of different filters (daylight, window glass, solar, storage light) is used.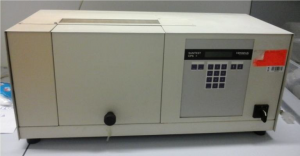 Heraeus-Suntest CPS+
Viscometry is a classical method for polymer characterisation. Viscosity is connected to molecular mass of molecules diluted in the solvent. Commonly vertical capillary is used, and the time needed for a specific volume of solution to flow through the capillary is measured.
Available methods
degree of polymerisation (DP) for natural and artificial polymers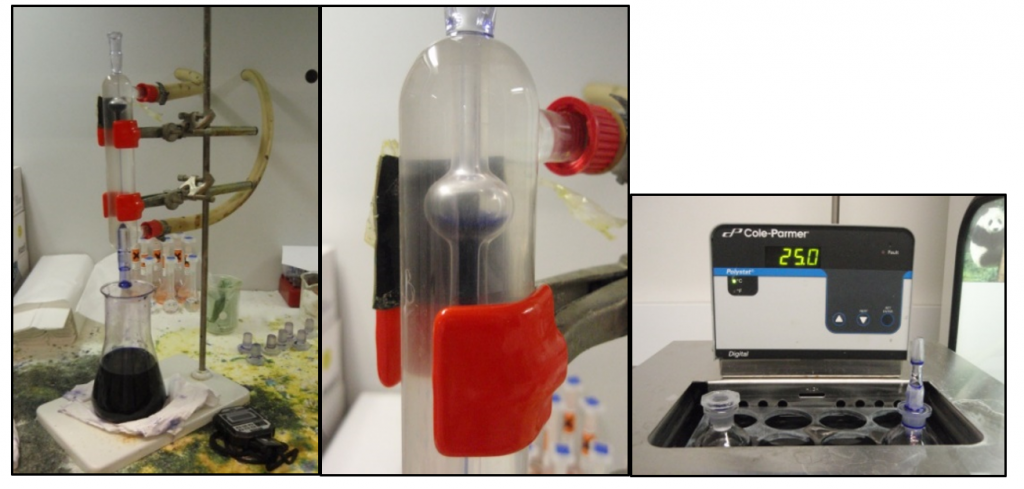 Setup for capillary viscometer
Spectrolino GretagMacbeth
The Spectrolino is a portable handheld spectrophotometer that can record reflectance spectra and work as a tristimulus colorimeter. It is used for consistent and accurate colour measurements, so it can be used to distinguish small colour changes. The working spectral range is 380 nm to 730 nm with a resolution 10 nm. The colorimetry measurements can be expressed in common colour space models, such as Lab or XYZ. It is equipped with a neutral filter, that can be exchanged for a D65 filter for approximation to daylight or a polarised filter.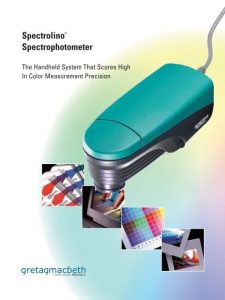 Infrared spectroscopy is a useful non-invasive analytical tool for the identification and study of solid samples. A beam of IR light (4000 – 400 cm-1) is used to excite molecular vibrations, so absorption occurs at frequencies characteristic for the sample's structure. A transmittance or absorbance spectrum is generated. IR spectroscopy is often used to analyze covalent bonds and identify structures in samples. The region ≥ 1500 cm-1 contains characteristic bands for functional groups in terms of position and intensity and the region < 1500 cm-1 has intricate patterns, that can be used as a fingerprint for identification of a compound.
Near infrared spectroscopy or NIR spectroscopy uses near infrared light (780 – 2500 nm) to excite molecular vibrations. It is particularly useful because it requires little or no sample preparation due to its deeper penetration compared to mid infrared radiation. Near-IR spectra are typically more complex at wide bands, because the bands are a combination of different molecular vibrations and overtones. Direct assigment to chemical compounds is difficult, so multivariate calibration techniques such as principal component analysis, partial least squares and artificial neural networks are used.