The Technical Museum of Slovenia, located in Bistra, Vrhnika is well known for its extensive collections and displays of technical heritage. From 12-14 April 2022 the Museum hosted a series of science engagement events in collaboration with the University of Ljubljana, Faculty of Chemistry and Chemical Technology. The programme was primarily intended for schoolchildren/students and their teachers who wish to become more familiar with science and engineering.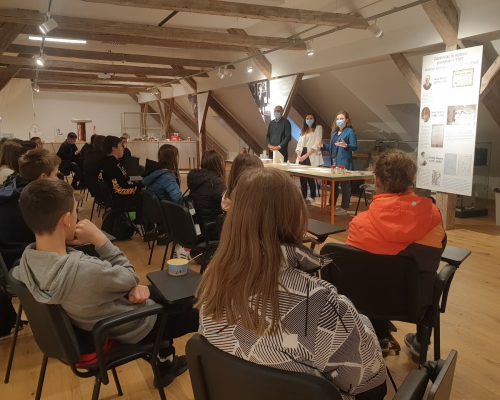 At the workshop, Hassan Ebeid (project ISLAPAP) presented invisible inks, using lemon juice to produce invisible writing. Once dry, the invisible ink can be made visible by brushing a solution of iodine, which reacts with starch in paper to produce blue colouration where lemon juice was not applied. Where the juice was applied, iodine is reduced by vitamin C, meaning that writing suddently appears as colourless on bluish-brown background!
Throughout history, such inks were occasionally used for texts that could only be made legible by the person they were intended for. Hassan has extensively studied the recipes reported in Islamic medieval literature as part of his EU Marie Curie Fellowship project.
The second experiment presented by Emma Paolin focused on odours. She used five different chemical compounds, each representing a different fruit, vegetable, flower or … a cultural heritage object! Indeed, historic objects can emit specific odours, as demonstrated by an old brush that smelled of vinegar or an old book that smelled of vanilla.
Emma is a PhD student working on the ODOTHEKA project, researching the significance of these odours and how they can be captured, analysed and potentially reproduced in order to be presented to museum audiences.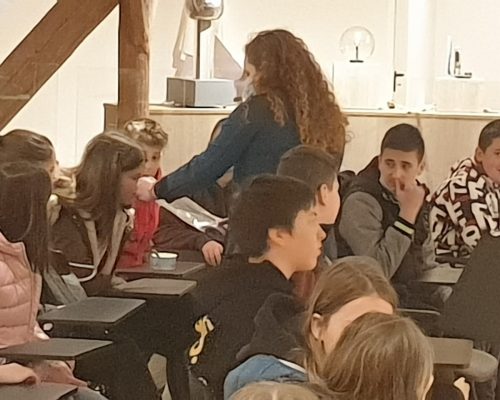 The workshop was moderated by Ana Šiško and coordinated by Professor Dr Irena Kralj Cigić. Thank you to all and see you next year with more exciting experiments demonstrating how science can be used to understand and preserve cultural heritage!