The Ny Carlsberg Glyptotek (Copenhagen, Denmark) possesses the largest collection of artefacts from Roman Palmyra outside of Syria, with over 120 artefacts from funerary sculptures. This article is the first comprehensive study of the polychromy of Palmyrene funerary portraits, resulting from the technical examinations carried out at the Ny Carlsberg Glyptotek – the only institution to have this far worked on examination of this type of objects. Six artefacts, representing different chronological periods from ca. 150 to 250 CE, were selected from this collection for closer examination and scientific analysis due to their particularly promising visible traces of polychromy.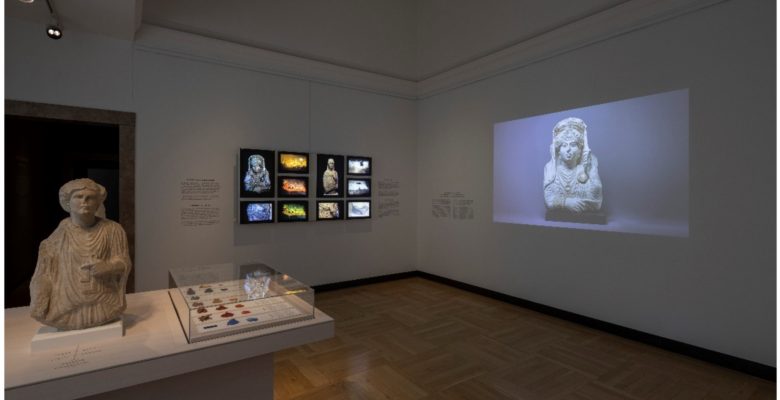 The objects were investigated with a range of non-invasive and invasive analytical techniques, to characterise the material and techniques used in the polychromy of Palmyrene sculptures. The combination of microscopic and spectroscopic techniques has led to the accurate identification of the pigments present, with a few interesting discoveries, such as the absence of Egyptian blue, the sole blue pigment so far identified in ancient Palmyrene wall paintings and other interior decoration.
Two samples were removed from one of the artefacts, the so-called Beauty of Palmyra (200 – 250 CE, Figure 2), which shows traces of polychromy of different colours on her hair, turban, headdress, jewellery, cheeks, and mouth. The samples, taken from yellow paint and red paint traces of the headdress, were analysed using mass spectrometry-based proteomics, to identify any protein-based material used as binder. Dr. Fabiana Di Gianvincenzo, who has now joined the HSLL team at University of Ljubljana, carried out this analysis at the University of Copenhagen.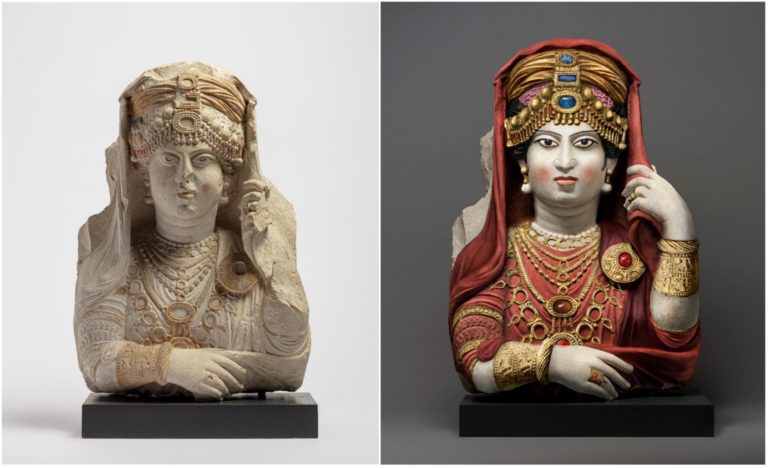 Collagen-based glue, prepared from boiling animal remains such as skin and bones, was identified in the sample from red paint traces. Only a few peptides supported this identification, suggesting a small amount of this glue is present.
Keratins and keratin-associated proteins – the main constituents of the outer layers of skin, as well as of hair, fur, wool, nails, and hooves – have been identified in both samples. The sources of these proteins were identified as pig and sheep. The identification of these proteins is probably connected with the extraction of a pigment, madder lake, from dyed wool, and with the use of a keratin-based glue, produced from animal hooves.
The data collected were ultimately used to create digital representations of what two of the artefacts would have looked like originally. Figure 2 compares the appearance of the Beauty today and the digital representation of what the sculpture probably looked like originally, based on the scientific data collected and on deductions based on other findings in Palmyra.
Find more details in the open-access publication here.