The Slovenian Embassy in Ottawa, Canada, in collaboration with the German Embassy and the SAW Centre in Ottawa, organised a 2-day SCI-ART symposium on 25 and 26 March 2023, showcasing a number of internationally acclaimed artists, scientists, and researchers from around the world for discussion and exploration of the latest developments in the fields of environment, heritage, philosophical-scientific questions, bioart and bioscience, and the humanization of technology.
With panels focusing on the ethics of A.I. in creative industries, interspecies collaboration, experiments in bioart and biotech and government policy, the visitors were in for a high dose of intellectual stimulation, culminating in an exhibition opening featuring Denmark's Recoil Performance Group and followed by workshops and master classes by international names in the art and science world such as Valerie Wolf Gang, Marie-Jeanne Musiol and Annie Thibault.
As part of the panel "POLICY RIOT: The Role of Government and Academia in Creating the Right Conditions for Art and Science Collaborations", professor Matija Strlič, the HSLL Lead, explored the central role of interdisciplinarity in academic education, required to tackle the big challenges of humanity, such as climate change.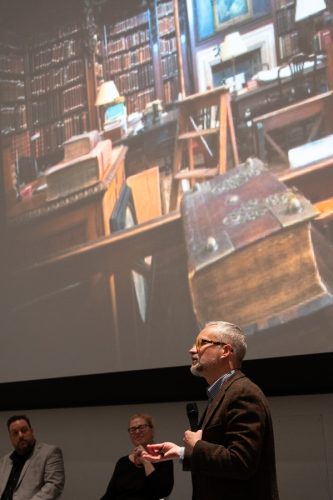 Reflecting on the pressures of climate change and its impacts on cultural heritage, professor Strlič explored human attitudes to loss and preservation and the role of art in the recreation and reinterpretation of heritage at risk or that has alreaady been lost. "To be relevant, heritage science must develop experts that are anchored in a discipline but that have the breadth to creatively interact with other academic fields and with the society at large."
Read more about the event in the daily news.